Four County Community Foundation recently surveyed residents about emergent needs in our service area.
Four prevalent needs were identified and the Foundation will give priority to these areas as we select grant projects to award in the next five years.
Beyond the Bell
An investment can have a huge impact on our local youth! Students can participate in after-school clubs or sports.

Your Story Matters
These funds will help support projects in the areas of suicide prevention, depression, drug abuse prevention, bullying prevention, etc.
Stronger Together
Funded projects will support small business development, mentoring programs, and workshops. Let's support our emerging small businesses.

Let's Go Places
Support projects that will provide mobility to our most at risk populations (senior citizens, the disabled, low income families.)

Four County Community Foundation Donors
Benefactor ($5,000+)
Armada Education Foundation
Geraldine Bishop
Drake Family Charitable Fund
Imlay City Schools Alumni Association
Imlay City United Methodist Church
Kiwanis Club of the Romeo Area
Michigan Health Endowment Fund
Alan & Nancy Parsch
Eric & Sandra Pelfrey
Ronald K. Rybar
Shelby Communty Foundation
Dr. James D. Sillers
Ronald & Margaret Tabar
John & Susan Zwiernik
Guardian ($2,500 - $4,999)
Armada Area Schools
Detroit Sportsmen's Congress
Steward ($1,000 - $2,499)
Almont Community Historical Society
American Tree, Inc.
Gilbert & Nancy Bates
Mitch & Dawn Blonde
Steve & Wendy Blum
Arlene Muir Corriveau
Dave & Annette Lock
McLaren Lapeer Region Hospital
McGeorge Memorial Fund
Michigan Association of Professional Insurance Agents
Louis & Dina Miramonti
Brenda & Mike Pinskey
Dr. Laura & Bret Schapman
Shenkel United Church of Christ
State of Michigan
Tri-County Bank
Betty Voigt
Friend ($1 - $999)
Almont Area Chamber of Commerce
AmazonSmile Foundation
Anonymous
Stanley & Lisa Babinski
Stephen & Mary Balsam
Dr. John & Kathleen Bartholomew
Janet Bauer
William & Ashley Baumann
Mildred Beaubien
Louis & Jan Betka
Sherry & Thomas Bissett
Blake's Orchard & Cider Mill
Lawrence Boldt
Gary & Micaela Boomer
Kathleen Brandt
Pamela Bryan
Gregory & Patricia Brynaert
Taylor Brynaert
L.L. Buccellato-Gardner
Castle Creek Golf Club
Cherry Creek Golf Club
Chief Financial & Accounting, LLC
MaryRose Clark
Glenn & Gloann Clemence
Dr. Clifton Clendenan
Eric & Christy Conn
Steve & Sue Francis
Dominic & Elizabeth Crosson
Nicole Czajka
Brion & Kathy Dickens
James & Teresa Dobson
Michael Muscat & Peggy Domenick-Muscat
Bill & Charlotte Duggan
Tiffany & Michael Dyer
Sandra Edwards
David Eschner & Maria Oddo-Eschner
Elks Club
Laverne & Joyce Ferrett
Golf Country
Greystone Golf & Club Banquet Center
Heather Hills Golf & Racquet Club
Kay Hendricksen
John & Janet Hollenbeck
Ken & Kristen Hummel
Imlay City Schools Teachers & Staff
Indigo Lavender Farms
Abraham Johnson
Marlene Johnson
Evan Karr
Friend (Continued)
Myra Kazanjian
John & Gail King
Kathy Kish
Gary Korelev
The Kroger Co.
Duane & Sara Kruger
Kenneth & Arlene Lee
Nancy Lee
Mark & Lorri Parker Losey
Kathlynn Markel
Pat Martin
Marysville Golf Course
Dr. Frederic & Linda McAlpine
Brian & Shannon Mead
Ruth Mitman
Judy Watkins Payne
Kim Perreault
Gerald & Carol Quimby
Randazzo Jeweler
Joseph & Hilary Rayl
RCO Engineering
Barbara Redding
Eric & Melanie Rinke
Romeo Historical Society
Kenneth & Susan Roncelli
Betty Russell
Diane Scenga
Ann Schiebner
Betty Schirmer
Charles & Carol Schroeder
Robert & Kathleen Scimeme
Shelby Township Area Optimist Club
James & Christine Spiewak
Dr. Mark & Linda Stout
Jean Sturtridge
Jody & Donna Tavalieri
Susan & Joel Thomas
Thrivent Financial
Gerald & Susan Vagi
Adam & Larissa VanDyk
Verlinde Insurance Agency
Jason & Jennifer Verlinde
Sharon Verlinde
Bill & Doris Wildermuth
Yvonne Wilson
Joe & Lorrie Worden
Yale United Methodist Church
ABOUT US
Four County Community Foundation is a non-profit community organization, created by and for the people of the communities we serve. We are here to make a positive impact on our community. We provide services to the villages and cities of southeastern Lapeer County, western St. Clair County, northern Macomb County, and northeastern Oakland County.
Learn More
Foundation Facts
$10.6 M
Grants & Scholarships Awarded
Helping Our Community Grow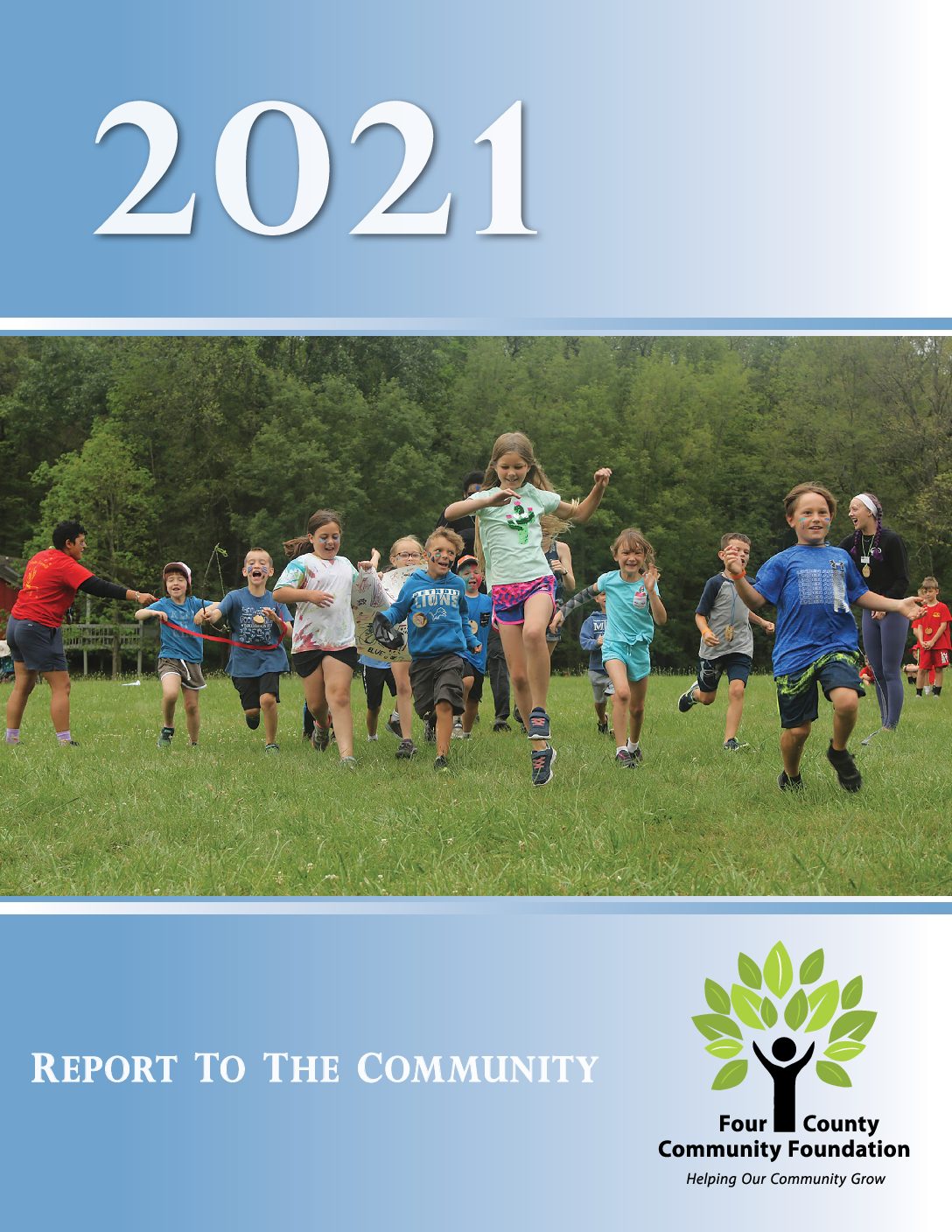 Four County Community Foundation's 2021 Report to the Community includes financial statements, our newest funds, and a community update for Your Voice – Our Vision.  Look for paper copies of this year's Report at libraries, government offices, schools, and businesses […]
Four County Community Foundation recently completed its fourth quarter competitive granting cycle.  In all, fourth quarter grants from six funds totaled $85,882.92! The Four County Community Fund awarded $38,000 to three non-profit organizations providing food, clothing, and shelter to our […]
Please tell Four County Community Foundation and local planning partners what you think! We are seeking input from people living in Lapeer County on the transportation needs of older adults and others who do not drive.  Check the following schedule […]
View More
WHAT WE DO
Created by and for the people of the corners of Lapeer, Macomb, Oakland and St. Clair Counties, Four County Community Foundation enables anyone with philanthropic interests to support the needs of our community. By bringing together the resources of individuals, families and businesses, Four County Community Foundation creates a permanent source of community capital that can benefit our local region forever.
OUR COMMUNITY
Four County Community Foundation serves SE Lapeer County, NW St. Clair County, NW Macomb County, and NE Oakland County.
2020 GRANTS
Scholarships 2021
Education
Arts & Culture
Food & Nutrition
Community
Health Services
Shelter & Housing
Total (exc. Scholarships)
$353,950
$32,376
$23,435
$26,501
$127,737
$45,379
$28,885
$284,313