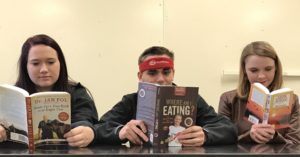 Four County Community Foundation (4CCF) is committed to serving the current and emerging needs of our local residents. During our third quarter competitive grant cycle, we approved fourteen grants totaling $30,490. These grants continue our support of education initiatives, health and human services, and other valuable programs in the communities we serve.
Our 4CCF Committee awarded five grants totaling over $14,000. Weston Elementary School in Imlay City received support to improve accessible motion in the resource room. The Village of Almont procured funding to offer TEAM (Teaching, Educating and Mentoring) training for Almont Community School's Resource Officer. A marketing grant was awarded to the Greater Romeo Washington Chamber of Commerce for the 6th Annual Night Under the Stars. Food for Families will be restocking their food pantry and Love INC will continue to offer emergency housing and utility support to Lapeer County residents in need.
Our Healthy Senior/Healthy Youth Committee awarded two grants this quarter. The first will help the Lapeer ISD purchase a vital signs monitor for use in the Health Science Professions program, while the second grant will provide an AED Unit for the busy soccer fields located adjacent to the Simpson Park in Romeo.
Our Youth Advisory Committee (YAC) also awarded two grants from the WK Kellogg Youth Fund; the first to support much-needed equipment updates in the Capac High School weight room, and the second to support the Capac Warriors Youth Football program.
Finally, five grants from our 21st Century Education Funds were given to area schools: Almont Middle School for geometry manipulatives, Dryden Jr/Sr High School for mathematics supplies, Imlay City's Weston Elementary for physical education support and for kindergarten STEAM building materials, and to Imlay City High School for environmental science lab equipment.
Four County Community Foundation manages 120 funds, which provide support for a wide array of charitable programs. In our 30-year history, we have grown from an original $2.5 million to nearly $15 million and have returned $8 million to the community.  Created by and for the people of the corners of Lapeer, Macomb, Oakland, and St. Clair Counties, 4CCF enables anyone with philanthropic interests to support the needs of our community. By bringing together the resources of individuals, families and businesses, 4CCF creates a permanent source of community capital that can benefit our local region for good, forever.