The Youth Advisory Committee is a branch of the Four County Community Foundation whose membership is entirely made up of youth from the communities we serve.  Our Youth Advisory Committee (YAC) was established in 1990.  The W.K. Kellogg Foundation sponsored the Youth Challenge for Community Foundations to grow youth endowment funds.  These funds are used exclusively for grants allocated by youth advisory committees for local nonprofits' youth programming.
Today there are close to 1,500 young philanthropists serving on 86 youth grantmaking committees in Michigan.  Collectively, YACs across the state award $1.5 million per year.  Since being established in 1990, our YAC has awarded 709 grants and scholarships totaling $626,212.  YAC works continuously to better the lives of youth through philanthropy.
We strive to have representation from each of the school districts in our service area.  These schools include Almont, Armada, Capac, Dryden, Imlay City, and Oxford, Richmond, and Romeo.  Students in grades seven through twelve have the opportunity to take an active part in giving back to their community through membership in YAC.  Our Youth Advisory Committee is always seeking new members.
As a Youth Advisory Committee, one of the most important things we do is assess the needs of our local youth.  Every three years, YAC members are responsible for administering the Needs Assessment Survey to seventh, ninth, and eleventh graders in our school districts.  YAC uses the results of the survey to determine how grant dollars should best be spent, and to decide what service projects they should initiate.  The latest Needs Assessment was completed in 2017 and is available here.
The YAC granting program is remarkable and unique.  YAC is responsible for setting up grant guidelines and deciding which requests will be recommended for funding.  Our YAC has four competitive granting cycles each year. In addition, the non-senior YAC members blindly review dozens of scholarship applications every spring.  Committee members do not know who submitted the applications, but make their award recommendations based on the students' essays.
To learn more about YAC opportunities or youth philanthropic events contact Four County Community Foundation.
2020-2021 Youth Advisory Committee Members
Officers
Members
Kellogg Youth Advisory Committee Advisors
Teagan O'Bryan, Co-President
Sam Lovell, Co-President
Carsyn Boggio
Ava DeVlaminck
Gracie Klink
Tyler Klinkman
Ana Lengemann
Lily Lengemann
Mary Lengemann
Sydney Livingston
Kayleigh Rienas
Molliegh Rinke
Julia Schaefer
Avis Schapman
Cooper Schapman
Ella Sutton
Logan Wenz
Kathy Dickens
Sarah Mousseau
Dina Miramonti
Dr. Laura Schapman
YAC Grant and Scholarship Applications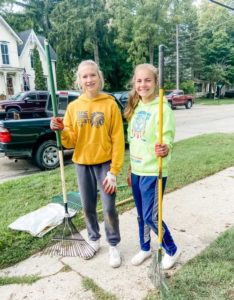 The Youth Advisory Committee reviews grants requests on a quarterly basis.
Application deadlines are January 1, April 1, July 1, and October 1.  Visit our Grants page to apply.
YAC also reviews applications for four scholarship awards each spring.
The scholarship deadline is March 1.  Visit our Scholarship page to apply.