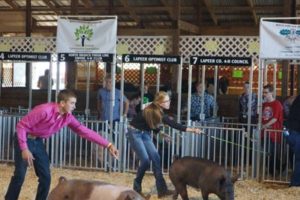 The Lapeer County 4-H and FFA Swine Show took place in a new arena purchased with financial support from the Four County Community Foundation, the Lapeer County Community Foundation, the Monsanto Growing Communities Foundation and business, individual and 4-H Club sponsorships. Spectators were able to see the area's 4-H Swine Club youth in action as the show got underway.
The sunny morning was buzzing with excitement as swine club members made last-minute preparations for the day's events. Show superintendent Michelle Peel introduced the 80-plus members of nine Lapeer County 4-H and FFA Swine Clubs, with students ranging in age from 5-21 years. Representatives from 4CCF were introduced to the enthusiastic crowd as the upgraded arena and holding pens were described and admired.
As the show got underway, the effectiveness and convenience of the 100 foot arena became apparent. Exhibitors brought their hogs into one of ten holding pens at the rear of the field. Swine judge, Ryan Harrell released the participants and their hogs one-by-one for a close look. As Mr. Harrell continued his observations, he was able to direct hogs and owners back to numbered placing pens to await final comments. And, as the end of one class of hogs was exiting the arena, another class was already waiting in the rear of the holding pens so the show continued without interruption.
Hog exhibitors seemed to love the upgraded, professional show arena. The new system will allow Lapeer County Swine Clubs to host their own "jackpot shows" as fundraisers for the Lapeer County 4-H and FFA Swine Scholarship. Swine committee member Nancy Boxey commented, "Being able to host shows will also provide greater access for our local youth who are otherwise unable to afford the cost of travel, to experience additional competitive opportunities, as well as meet with professionals within the swine industry."