On October 5, Four County Community Foundation (4CCF) formally presented a $25,000 gift to the Child Advocacy Center of Lapeer County's capital campaign. The Child Advocacy Center (CAC) will use campaign funds for the construction of a new facility to be located on Imlay City Road in Lapeer.
Casey Schlinker, CEO/Executive Director of the CAC, said a new space for their organization is a necessity as they seek to expand their services and partnerships within the community.
"Our team is excited about what the new facility can bring to the children and families we serve," Schlinker said.
"We are looking forward to having a space of our own that we can make our own."
Schlinker said she's finalizing construction details with the architect and hopes they can break ground on the project very soon. The building promises to offer more confidentiality to families and children who visit and provide more functionality and working space for CAC staff.
"Our community is very fortunate to have the professional services of the Child Advocacy Center of Lapeer County and 4CCF is honored to help youth and families as they navigate very challenging times," said 4CCF Executive Director Kathy Dickens.
"It is our privilege to award funds for them to have a building that is more conducive to their services, affording clients the privacy, safety, and comfort they deserve.
The Child Advocacy Center of Lapeer County was established in 2008. Its mission is to "reduce the trauma to children during the investigation and intervention of alleged sexual or severe physical abuse through advocacy, education, intervention, and treatment." The center provides children a non-threatening, child-friendly place to share their traumatic experiences. A multi-disciplinary team of prosecutors, law enforcement officers, child protective services (CPS) representatives, and medical providers utilize the CAC facility "to collaborate and ultimately reduce the number of times the child would have to share and relive their story," the organization notes on their website.
The CAC also provides emergency and scheduled forensic medical examinations for adult and child victims of sexual assault through a partnership with LC Safe/Lapeer County Sexual Assault Program.
For more information about the Child Advocacy Center of Lapeer County visit caclapeer.org or call (810) 664-9990.
Four County Community Foundation is a non-profit community organization, created by and for the people of the communities they serve in southeastern Lapeer County, western St. Clair County, northern Macomb County, and northeastern Oakland County.
For more information about Four County Community Foundation, visit www.4ccf.org or call (810) 798-0909.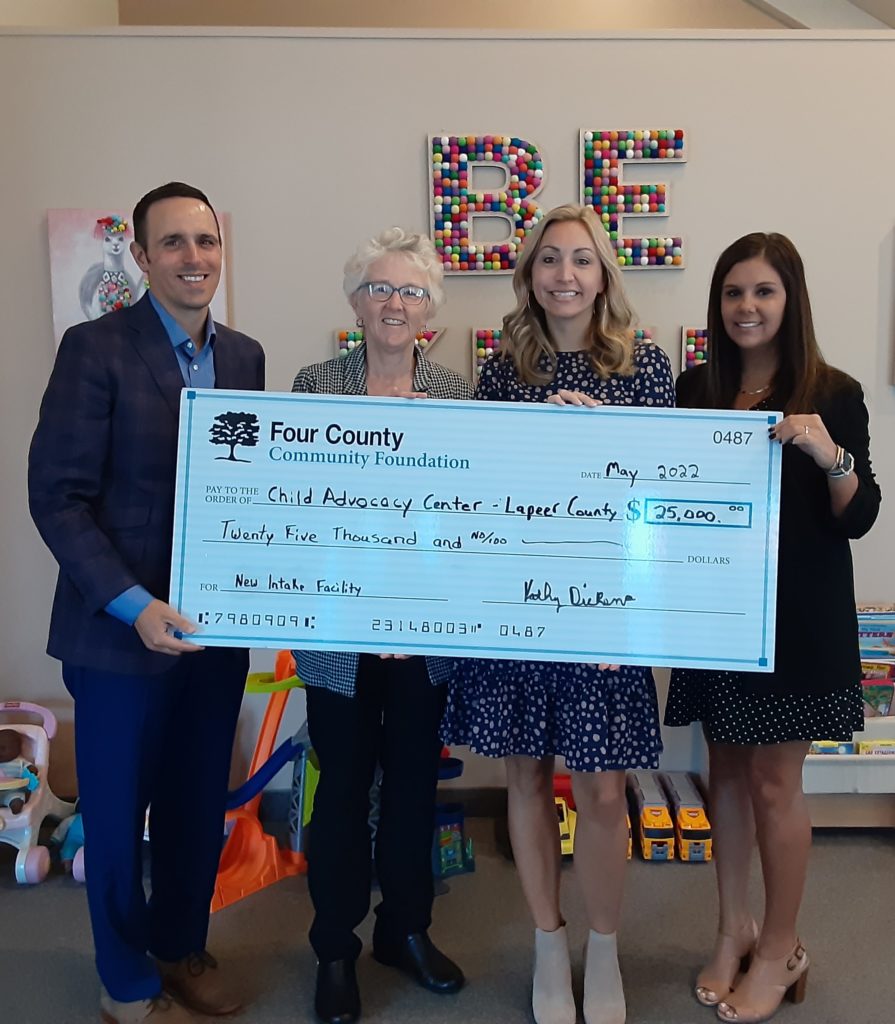 4CCF Board Vice Chair Ken Hummel and 4CCF Executive Director Kathy Dickens present $25,000 gift to the Child Advocacy Center's CEO/Executive Director Casey Schlinker and Development Director Dawn Wisner